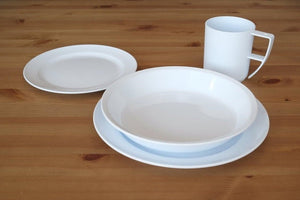 This is for four complete sets as shown in the image.
The pieces are unbreakable, high impact polyurethane and are dishwasher and microwave safe.
The deep bowl and cup with a large handle are excellent pieces to be used when feeding youngsters.
Dimensions
Large Plate - 24 cm diameter




Soup Bowl -21 cm top diameter, 13.5 cm bottom diameter, 3.5 cm deep




Bread Plate -19 cm diameter




Cup - 8 cm diameter, 9 cm deep, volume 360 ml (1.5 cups).