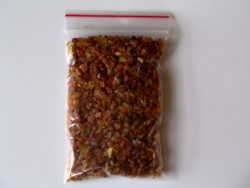 Pure, unprocessed Natural Baltic Amber for best results
Comes to you direct from Poland on the Baltic Sea
High succinic acid content allows use several times
Fine grind to make the best amber tinctures with no waste
Large pack 100 grams of Natural Baltic Amber chips
Authentic, centuries old amber tincture recipes and instructions included
These are raw, Natural Baltic Amber chips that at 5 to 8 mm or so in maximum diameter. See the definition of Natural Baltic Amber here.
These chips the same as thosr that are normally sold all over Poland in small bottles that contain 10 grams of chips and which are sold at the same price that you pay for 100 grams here. You save money here by not paying for a bottle. You buy bagged bulk lots here since the bottles only add to the expense.
Amber chips are used to make a natural medicine that has been used in Europe for centuries.
Actually, amber chips are use for many things. In this listing we discuss at length their use in tinctures. But do take note that they can be used for aromatherapy, making amber trees, decorative crafts, amber pictures and anywhere else you would use a craft bead or chip. (Polish women use them to decorate handbags and blouses.)
But as far as health goes:
After many hundreds of years of experience with them, the use of amber tinctures for health continues to be popular in Europe with many people using amber tinctures, made from amber chips, as part of their health maintenance routines. The history of the use of amber tinctures records that during the medieval days of the black plague, amber workers did not die of the black plague. And it records it as one of the most effective medicines of its times.
Albert The Great (1193 – 1280), a Dominican and a philosopher, identified Amber as the first among the six most effective medicines of the time. In order of effectiveness he listed them as succinium (natural baltic amber), ocastoreum, mors, camphor, tartarus and aurum. . Tinctures made from succinium (amber) were prescribed as effective cures for stomach and rheumatic aches as well as for the reduction of the symptoms of a cold and flue, hay fever, high temperature, headache, aches and pains in muscles and joints.
Amber chips are used at home to make an amber tincture by seeping the chips in a clear alcohol such as vodka 3 to 5 drops of tincture are added to a glass of water.
As a rather interesting side note, a commercial manufacturer found that succinic acid helps cure a hangover. (That was known in Europe centuries ago.) This commercial manufacturer uses succinic acid as the base for a commercially available hangover cure.
Europeans continue to use the homemade tincture mentioned above for hangovers.
You get chips and a copy of a traditional amber tincture recipe and information about how it is used.