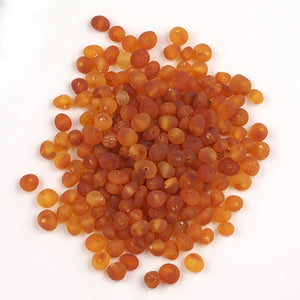 Burnished Baltic amber beads with a beautiful mat finish in warm, honey color.

Burnished amber beads are the most effective beads for transferring the soothing agents from the necklace to your skin. That is because for a given bead size there are more points at which the succinic acid may leave the bead and contact the skin.

The beads are 4-5 mm in diameter with a drilled hole of about 1 mm. It is best to use 0.8 mm string or elastic string to make necklaces or bracelets.

Use these beads to make your own jewelry, necklaces, bracelets, anklets and rosaries. Fix your broken pieces or make new creations.

Baltic amber beads are warm to touch and they warm up more when worn on bare skin. The amber then gives off succinic acid which is proven to have positive influence on human body. "Warming up amber changes ionization, positively influencing our frame of mind and rebuilding the disturbed electrostatic field" - Amber in Therapeutics by Gabriela Gierlowska.

The beads come from an amber bead manufacturer certified by the International Amber Association and The Polish Amber Chamber of Commerce and are genuine and pure Baltic amber.